Mobile Only
This page contains information about content that only appears in Discord for mobile users.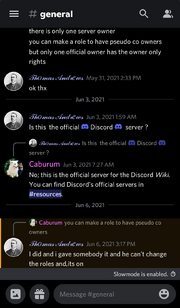 The AMOLED optimized mode is a hidden application appearance mode that is exclusive to the Android version of Discord. When enabled, the entire interface becomes darker than the standard dark theme, along with a pure black background. This theme is useful for devices with AMOLED displays, as pure black pixels will turn off entirely, preserving the battery life of the device.
How to activate
While using an Android device, go to the "Appearance" section of the user settings.
Tap the "Dark mode" option ten times.
Enable the toggle labeled "AMOLED optimized mode (experimental)"
Trivia
After the fifth tap on the "Dark mode" option, a counter that reads "You hear a rumble! Knock _ more times..." appears for each tap.
Once the AMOLED option has been revealed, a tooltip that reads "Brave one, the path to darkness opens!" appears.
Once the AMOLED option is selected on an unsupported device, a tooltip that reads "In the darkness evil lies alone. Not Supported." appears.